Buying a solar panel in 2023 to save your electricity is one of the best investments you can make. Solar panels will last for almost three decades and lower your electric bills in the long term. Therefore, if you are interested in buying one, I highly recommend Blue Raven Solar.
Established in 2016, this company has grown greatly and received popularity for its panels and customer service. With affordable payment options, warranties, and guarantees, they are one of the best solar companies right now.
Read more about them now to finalize your buying decision by reading this post till the end.
Blue Raven Solar Installation Process
Then entire Blue Raven Solar installation process is as follows:
1. Contact
The first process of installing your solar panel lies in contacting the company you wish to buy it from. You can either contact them directly through their contact number or their email.
However, the best way to contact them regarding installing solar panels is by filling up their contact form. You will find this form on the "Contact Us" page. This form asks you for your details, along with some additional questions. Therefore, simply fill up the form, and Blue Raven Solar officials will soon contact you.
2. Consultation
After you have submitted your contact form, the company officials will soon contact you. Depending on the scenario, the consultant will either come directly to your house or hold a video call first.
This consultation meeting is important for you because its purpose is to solve any concerns and queries on your mind. Therefore, if you doubt installing Blue Raven Solar Panels, this consultation session will be pretty informative.
In addition, the consultant might come directly to your house on the first go. If such is the case, then they will analyze your house and the type of electrical appliances you'll be running.
Additionally, they will check out your roofs and walls to develop the best plan for installing solar panels. They might also design 3D models of your house with solar panels and how they'll work for you. Typically. Your solar panels will be mounted on your rooftop.
3. Paperwork
Before the solar panel installation process begins, Blue Raven Solar will present you with a bunch of documents. You must sign all these documents to approve the legal paperwork for installing small solar panels. In addition, you need to decide on the payment plan for installing solar panels in your house.
4. Installation
After all the plans are charted up, the solar panel setup process begins. They will do this within 24 hours on the exact date of installation for smaller houses. It might take more time if you have bigger houses like a villa.
Blue Raven Solar Financing Options
Blue Raven Solar has various payment and financing plans available for you. You can either pay the entire amount in full or through the BluePower+ payment scheme.
Under the BluePower+ payment scheme, you will receive 18 months of free solar energy after the date of installation. After this period is over, you can start paying back your dues. There are several other benefits of choosing the BluePower+ financing plan. They are:
Installation charges are free.
Your monthly payment amount will have a fixed interest rate.
They will provide a power production guarantee for two years.
Additionally, you will receive a 25-year warranty.
Blue Raven Solar Customer Service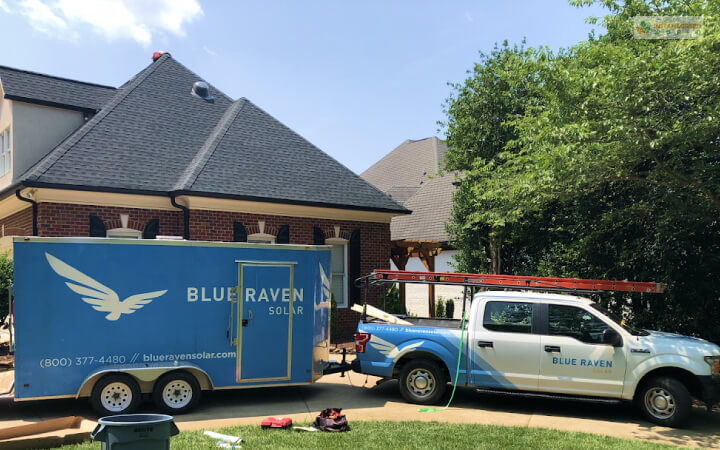 If you are worried about Blue Raven Solar customer service, then they have got great plans for you. To contact them, you can call their customer support helpline from 7 am to 10 pm on weekdays. On weekends, you can contact them from 8 am to 8 pm. Their primary headquarters are in Orem, Utah.
Blue Raven Solar Warranty
When you install your Blue Raven Solar panels, they will come with a warranty and a power production guarantee.
25-year Warranty: All solar panels come with a manufacturer's warranty of 25 years, starting from the date of installation. However, this does not include cleanup and maintenance.
2-year Power Production Guarantee: Your solar panel will also include a Power Protection Guarantee of 2 years. If the electricity produced by your panels falls below a certain amount, then the company will come to repair or change your solar panels for free.
Blue Raven Solar Reviews
Blue Raven Solar Jobs has good reviews. This is evident from its A+ rating given by Better Business Bureau (BBB). Here are some Blue Raven customer reviews found on the official BBB website:
"My husband and I are very happy we chose Blue Raven Solar. We shopped around for other solar companies, but ultimately, they stood out the most. The sales representative that explained the whole solar process to us was extremely knowledgeable and friendly. Our panels are installed and are making more electric power than we expected!" — Mary.
"Salesman Kyle gave me a quote. After reviewing the quote, my wife and I spoke with several realtors, competitors of Blue Raven, [and] other people in our area that have solar and determined that it was best for us to pass. I [told] Kyle over text and he [was] very rude and condescending. Very unprofessional and uneducated on what saving money means. I will not recommend anyone to Blue Raven due to this experience." — Shawn B.
"I've had a great experience with everyone from start to finish. My project was completed quicker than expected. The Installation crew was on time and finished quickly. I would recommend them. And I have recommended them to 4 people and counting." — William F.
"Blue Raven was very supportive in getting me into a contract, installing my panels, and telling me how quickly I would be enjoying Solar energy. However, about a month after installation I can't get anyone to return my calls about an estimate of when my service will actually start." — Barry H.
Best Blue Raven Solar Alternatives
The best alternatives for Blue Raven Solar are:
1. Tesla Energy
Owned by Elon Musk, Tesla Energy provides its services across almost all states in the USA. They have high-quality solar panels and the Tesla mobile app for monitoring their output.
| | |
| --- | --- |
| Pros | Cons |
| Provides pricing information online.You can use the Tesla mobile app for 24/7 energy monitoring.25-year warranty. | Only four products are available.Installation is not available in all states. |
2. Palmetto Solar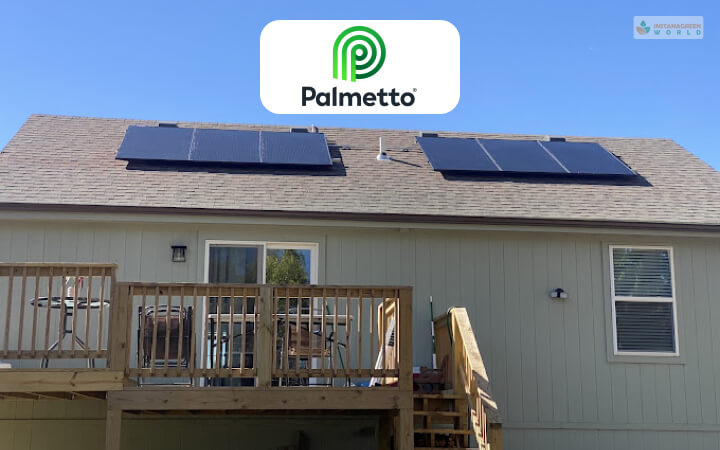 Palmetto Solar is a pretty popular name amongst the best solar companies in the US. They have made a name for providing one of the best customer services and consultations.
| | |
| --- | --- |
| Pros | Cons |
| Offers extensive protection plans.You can use an online calculator to measure solar savings.25-year warranty. | It's not available in most states.No pricing information is available online. |
FAQ (Frequently Asked Questions):
Answers to questions regarding Blue Raven Solar are:
Q1. Who Bought Blue Raven Solar?
Ans: SunPower buys Blue Raven Solar in U.S. residential market shift. Reports indicate that they signed the deal after Blue Raven Solar agreed on the price tag of $165 million.
Q2. What Types Of Solar Panels Does Blue Raven Use?
Ans: Like solar companies out there in the USA, this company makes use of black monocrystalline solar panels. These are pretty cost-effective and are durable enough to last for 30+ years.
Q3. Is Blue Raven Solar Expensive?
Ans: Yes, their solar panels can be expensive since it costs a lot to buy and install. Blue Raven charges anywhere from around $22,000 to $33,000 for the purchase of solar panels and installing them.
Final Verdict: Is Blue Raven Solar Worth It In 2023?
Yes, Blue Raven Solar is a great company to purchase and install solar panels from in 2023. Providing a very intuitive and detailed installation process, you won't face many problems with their products and services.
Additionally, they provide an amazing BluePower+ payment scheme, providing 18 months of free energy. They will also provide you with a 25-year manufacturing warranty and a 2-year power production guarantee.
However, they have new leases and PPA available. Also, their products and services are only available in 22 US states.
| | |
| --- | --- |
| Pros | Cons |
| Provides 18 months of solar energy for free.No downpayment is required for installation.Two-year guarantee on production. | No lease or PPA available.Available in only 22 states. |
Read More: