Solar light is one of the best results of the technology. However, you may be amazed after knowing that solar light has different uses in daily life. 
There are numerous solar panel lights that you can use in your home or garden to decorate with a new touch. Solar lights are cost-efficient, and you can use them outdoors and indoors.
The new technology of solar lights can beat conventional methods of light. So, why not implement solar lights in your home and garden that can reduce your electric bills. Let's take a look below.
Types Of Solar Panel Lights: Use To Good
If you are thinking about what types of solar panel lights you can use in your daily life, well, I have a list of outdoor and indoor solar lights. Don't waste your time; I will jump into the list of solar lights
Outdoor Solar Panel Lights
Outdoor solar lights are famous in the market nowadays. This technology is very useful for lighting the street, terrace, garden pathway, backyard, footpath, and more. If you are searching for solar panel lights outdoors, then check out some of them in detail.
1. Solar Garden Lights
The most useful and innovative idea of using solar panel light. That's why I include this in the top-notch of this category. Solar garden light is generally used to decorate the pathway of the gardens, terrace, and porch.
This is very effective when it comes to saving your electric bill. In addition, you can create a heaven-like environment in your garden.
2. Solar Emergency Lights
If emergency lights can produce sunlight, that would be a dream. Now, this dream has come true. Solar panel lights produce emergency lights. This light is perfect for an emergency case.
During load shedding, solar emergency lights are very helpful for household work at night. Moreover, the new generation of solar light can last for years, even after cold weather.
3. Solar Post Lights
Solar post light is another creative idea of design experts. You can use this light on the two sides of your house's main gate. It creates a classic look. In addition, it produces soothing light that creates a relaxing atmosphere.
Apart from the decoration purpose, solar post light is also an environmentally friendly way to light up the footpath and driveway.
4. Solar Flood Lights
The outdoor spotlight is also known as a solar flood light. You can use this if you want to light up in a specific space. There are a lot of areas that are suitable for solar panel lights. 
The modern generation of technology produces different types of flood lights for illuminating certain areas. The most common areas are parking lots, playgrounds, and streets. It is also available on the market if you are looking for a solar panel for Christmas lights.
5. Solar Driveway Lights
A driveway is the space where light is important to have. There is no reason to avoid light. Solar driveway lights are types of Solar panel lights to help to park your car in the perfect place. You can use this light in your home park area. No need to think about electricity.
There are different models; you can choose them and implement them in your park space. It would be the best implementation in the driveaway.
Indoor Solar Panel Lights
Just like the availability of solar panel for outdoor lights, solar light also has indoor models. Let's check them out.
1. Solar Desk Lamps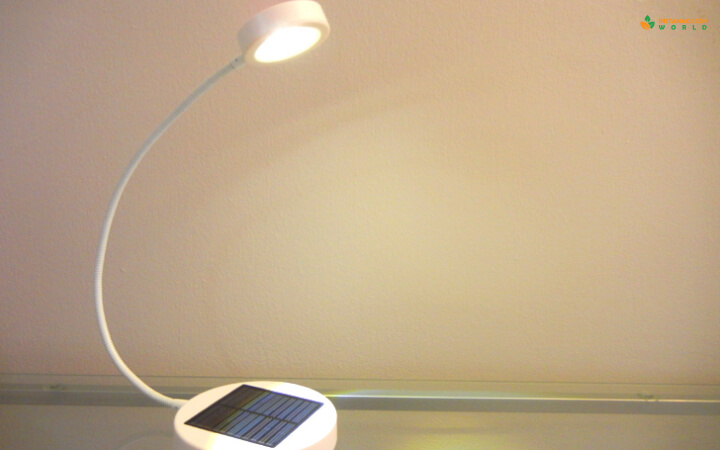 For students, solar desk lights are very significant for their study time. Light is applicable on the desk in the form of a flexible solar desk. No need to plug in desk lamps, so you can use them wherever you want: kitchen, in your bed, or on your desk.
The concept of solar desk light is simple- to supply light to help you concentrate on your work or study.
2. Solar Shed Lights
Solar shed lights are something every homeowner considers to have in their home. You can use this light everywhere but make sure that there are enough lumens and LEDs. The benefits of this light are to produce light though the shed is far away from the electric line.
Solar panel Christmas lights are also available in the market. Most homeowners don't want to add to their utility bills. So this is the ideal use of solar shed lights.
3. Solar Panel Lights With Remote Control
Solar lights with remote control is a type of flood light that you can operate by remote. This is a new technology of solar panel lights. It is waterproof. You can add it to your living room or hall room as well as beside the swimming pool area.
With the help of a remote, you can turn on or off the solar light from anywhere at any time you want. This is the best feature of solar panel light. It has 3.2 volts.
4. Solar Powered Light Bulb
The use of solar-powered light decreases your electric bill. We use a bulb at the door that would get a huge electric bill. If you want to eliminate this situation, you can use a solar panel bulb.
This light gives clean light. For the solar panel, you should fix the place with sufficient sunlight. The best thing is that, during load shedding, your door bulb will produce light.
5. Solar Pendant Light
If you like to decorate your home but don't want to increase your utility bill, don't worry; you can use solar pendant lights. In the market, you can have different types of solar pendant lights; select one design of them and add them to your home to create a stunning look. 
Apart from design, you can light up in the backyard place of the home. The best part of this light is, no need to turn on the switch; it is automatically on when the sun goes down.
Frequently Asked Questions (FAQs):
Here is some more information regarding solar panel lights; you can look out at once if you want to get more.
Q1. What Light Is Best For Solar Panels?
What light is best for solar panels: the answer is the sun. Sun is the best light source for solar panels. The solar panel aims to get energy from the sun and produce electricity. So, that's why a cloudless sky is ideal for solar panels.

Q2. How Long Do Solar  Lights Last?
To be honest, the batteries in outdoor solar panel lights can last about three to four years. The LED light can be expected to last ten years or more.


Q3. Do Solar Lights Work All Night?
The solar panel is created to produce light at night. During the day, the panel gets the energy and is transformed into electricity and stored in the battery. At night, the battery supplies the electricity to the light until it is all used.


Q4. Are Solar Lights Worth The Money?
Though the implementation of solar light is not budget-friendly, it can be helpful in the future. However, it means you have to invest money at once,  stay back and get the benefits of solar light.


Q5. Why Don't My Solar Lights Stay On All Night?
If your solar light does not produce light over the night, it means that the solar panel can not get enough sunlight during the day. Set it to the place where the solar panel gets the sunlight clearly.
Wrapping Up!
Though it may seem complicated, the solar system is one of the simplest. Solar panel lights present a revolution in the world. Today, it is so popular around the world. People are showing interest in buying solar lights for their money.
Yet, it is more costly than conventional light, but it can decrease your utility bill for years to come. If you want to add more solar light to this list, you can comment below; till then, stay happy and bright.
READ MORE: