Due to the rising price of cooking gas and electricity, using solar power as our primary renewable energy source is more crucial now than ever. Therefore, if you can use solar panels for electricity, why not create solar ovens for cheap by yourself?
Therefore, grab your materials and toolbox to start making one. Read this post to learn how to make one from the comforts of your home.
How To Make A Solar Oven?
How do solar ovens work?
The best way to answer this question is to learn how to make solar oven ideas by yourself by awakening your inner Einstein. To do so, follow this guide, as I have explained below.
Materials Required
The primary materials that you need for creating homemade solar ovens are:
A metal drum
A sheet of metal
An aluminum sheet
Scrubber with soap
Reflective paint
A strip of cardboard
Insulation spray
A rectangular wooden frame
Metal driller
Tempered glass
Aluminum racks
Wood stove Thermometer
⅛" pop rivets
1. Slice Open The Metal Drum
The first step is to take a jigsaw chainsaw and slice open the metal drum in half vertically. Since you only need one half of the metal drum, you can discard the other half if you want to.
2. Clean The Drum Inside Out.
After you slice the metal drum, clean the insides thoroughly. Use a scrubber with a non-greasy soap to make cleaning the insides easier. Ensure you clean it enough to make it gleam under the sunlight.
3. Cover The Interior Of The Drum With A Metal Sheet.
After cleaning the insides, stick the metal sheet with the insides of the metal drum. For the best fit, measure the curved inside of the drum with a measuring tape and cut or buy a metal sheet of its size.
To attach this metal sheet, you must drill ⅛" holes along the sides. In addition, you must have pop rivets of the same size as the holes (⅛").
Safety Note: Wear goggles if you are cutting the metal sheet.
4. Cover The Ends Of The Drum
Now that the curved inside of this metal drum is covered, it's time to cover the round ends. For this job, make semicircular lids with the same sheet of metal as used above.
5. Apply Reflective Paint In The Inside
Now that you have finished with the coverings, it's time to awaken the Van Gogh inside you. Paint the insides entirely with reflective paint. This will ensure that it can reflect the maximum heat on the food. Also, ensure that you are using eco friendly paint.
6. Make A Metal Lip With Three Edges
To attach the sheet of glass to DIY solar ovens, you need to create a lip on the top. You can do so by creating it with six metal flashings. Here's how you can create the metal lip flashings:
Create a flashing sandwich of two layers by placing cardboard in between and then drilling the layers.
Attach a rivet near the bottom to attach it to the edges of the metal drum.
7. Spray Insulation On The Outside
Flip the metal drum over and apply a thin layer of insulation spray on its outside. This will ensure that the heat absorbed stays inside and doesn't get emitted outside. This is necessary because you don't have a solar panel setup attached to this.
8. Attach A Wooden Base On The Bottom.
To ensure that solar ovens are cookable, you must ensure they stay in place and don't roll over due to their curved bottom. Therefore, create a big enough rectangular wooden frame and place this solar oven on top of it.
9. Drill Drainage Holes
Inside the metal drum, drill a line of holes that are three inches apart from each other. It should drill the insulation layer too. This will help all the vapor to escape while cooking. You don't need air sealing here.
10. Cover The Metal Lip With Tempered Glass.
Now, slide the tempered glass on top of the metal drum. Ensure that it fits perfectly between the metal lips. Ensure that the tempered glass is 3/16" or 0.48 cm thick.
11. Place A Thermometer Inside (Optional).
If you want, then you can place a wood stove circular thermometer. This type of thermometer is recommended since it can withstand the heat absorbed by the metal inside.
12. Cover The Bottom With Aluminum Racks From The Inside.
Finally, place aluminum racks on the inside of this homemade solar oven. Ensure they are straight and won't cause your cooked food to tilt and fall.
Best Solar Ovens For Sale
If you don't want to build solar ovens, you can buy one from the market. You can also buy the ones that have small solar panels attached to them. The best ones I recommend are:
1. Gosun Portable Solar Oven
Price: $279
A portable solar oven is great for outdoor picnics and summer BBQ parties. If you are interested, I highly suggest the Gosun Portable Solar Oven.
This is made with two foldable parabolic aluminum reflectors. Plus, it's covered with a high-quality Borosilicate Evacuated Glass Tube that makes the cooking chamber cook food more efficiently.
PROS
CONS
• Can cook in temperatures up to 550 degrees. Fahrenheit.
• Highly portable solar cooker.
• Provides 360-degree cooking.
• Has a two-year warranty.
• This can cook food in approximately 20 minutes.
• It's also pretty easy to clean this cooker.
• Many customers have complained about the tube of this solar oven being of low quality.
• The area inside for cooking could have been better.
2. Sol Cook Solar Oven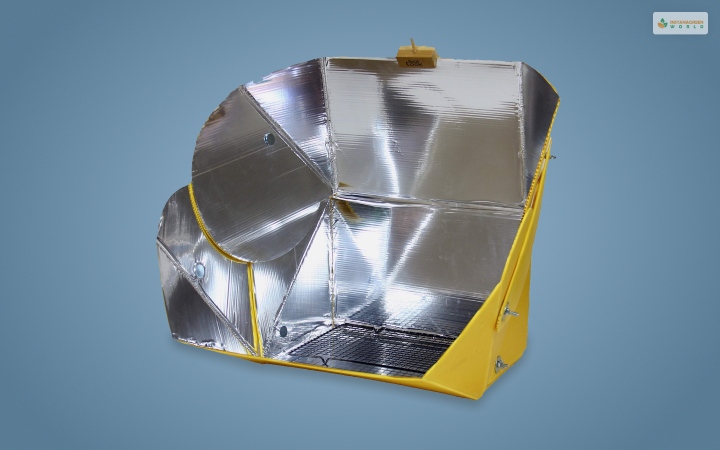 Price: $215.99
The Sol solar cooker is a known brand for manufacturing solar powered spotlight and various solar panel lights. If you want a solar oven with a large cooking area, then this is the one that you should buy.
This solar oven is made with high-quality virgin polypropylene flute boards that make this solar cooker weatherproof. Therefore, this cooker is pretty durable.
PROS
CONS
• The weight of this solar cooker is pretty light.
• This cooker has a large cooking area of 17" x 12".
• Maximum temperature – 325 degrees Fahrenheit.
• Has only one year warranty.
• Assembling this solar cooker can be a bit tedious.
3. Haines 2.0 SunUp Solar Oven
Price: $119.99
If you are looking for budget solar ovens ideas, this one by Haines can be a good choice. This is lightweight, weighing only 2.4 pounds, and has a diameter of 30". Apart from this, one of the best aspects of this solar oven is that it can be folded and carried around, making it highly portable.
PROS
CONS
• Pretty affordable.
• This cooker is light in weight, and Portable.
• Due to its cheap price tag, Haines doesn't provide any warranty.
Frequently Asked Questions (FAQs):
Cooks have various queries regarding solar ovens, which I have answered below:
Q1. What Are The Three Main Types Of Solar Ovens?
Ans: The three primary types of solar ovens are:
• Boxed solar ovens
• Reflector solar ovens,
• Panel solar ovens
Q2. What Are The Disadvantages Of Solar Ovens?
Ans: The main disadvantages of solar ovens are:
• You only get solar energy during the daytime. Therefore, a solar oven is useless at nighttime.
• Cooking a dish takes way longer.
• You must constantly alter the solar cooker's angle to face the sun.
Q3. What Are The Benefits Of Solar Ovens?
Ans: The excellent benefits of solar ovens are:
• You don't need electricity or gas to cook. Therefore, it saves cooking gas and money.
• Solar cooking is eco-friendly.
• Solar-cooked food is more nutritious.
Get Cooking With Solar Ovens!
Creating solar ovens by following the steps I have explained above is a great way to ensure that everything goes as smoothly as possible. Therefore, ensure that you follow the steps perfectly, create this solar cooker, and save yourself lots of money!
In addition, if you are tired and have money to spend, you can simply buy any of the three solar cookers I have recommended above.If you have any suggestions, let us know in the comments below!
Read More: