While winters are the best times of the year, their holiday spirit can be ruined by how cold they can become. While you cannot change the weather outside, you need your rooms warm to live comfortably. Therefore, an energy efficient space heater becomes super valuable.
If you wish to buy one such room heater for winter that also helps you save electricity bills, you have clicked on the correct link. Here are the seven best room heaters that I would recommend in 2023.
Most Energy Efficient Space Heaters You Can Buy In 2023
The most efficient space heaters you can buy in 2023 that provide the best value for money are:
1. De'Longhi Ceramic Tower Heater
Price: $100
This high efficiency space heater by De'Longhi is the best alternative that you can get to a solar heater. It's a ceramic space heater that has various control modes in it. This includes multiple modes like eco modes to save electricity and high-performance modes.
However, apart from its modes, you can also use a remote control to control it from a distance. Including a remote control makes heating your room while Netflix and chilling easier than before!
PROS
CONS
⦿ Eco mode to automatically adjust heating and electricity usage.
⦿ Includes safety features like two-stage overheating and thermal shutoff.
⦿ Customers complain about issues with the remote and poor customer service by De'Longhi.
2. Honeywell 360-Degree Surround Heater
Price: $42.99
If you look at this energy efficient space heater, you will notice it has a cylindrical design. Its cylindrical design allows this highly efficient electric space heater to provide 360-degree space heating.
This heater is good for heating your room or office cabin. In addition, this space heater has an in-built power saver that can help you shave off $300 from your electricity bills.
PROS
CONS
⦿ This has an innovative saving feature to help you save electricity.
⦿ Provides 360-degree room heating.
⦿ You will get various safety features like 2-step overheating protection and an auto-off timer.
⦿ While it has an adjustable thermostat, it doesn't include a low-heat option.
3. Dyson HPO1 Pure Hot + Cool Air
Price: $459.99
If you have money to spend on a premium battery operated heater for your room, buy his heater from Dyson. Since you are paying a high price, this is one of the best-looking tower space heaters in 2023.
This space heater is best for safety and health since it also acts as an air purifier as well. In addition, its heating range is longer than most energy efficient space heaters on this list. Therefore, you can also use it to heat a smaller hall room.
In addition, you have various buttons to customize settings like sleep timer oscillations, ten different air speed settings, and more.
PROS
CONS
⦿ This heater is certified asthma and allergy friendly.
⦿ It Includes a HEPA Air Purifier to keep the air warm and clean.
⦿ Has safety features like automatic shut down when tipped over.
⦿ Pretty expensive.
⦿ The fan for cooling can often work not as intended.
4. Vornado VHEAT Vintage Heater
Price: $152.99
If you want a small space heater instead of a solar panel setup with small solar panels, Vornado should satisfy you. Their VHEAT Metal Vintage Heater might look small, but it does the job perfectly.
With two different settings, you can control how much heat you want from this heater. You can either set it to a lower 750-watt or higher 1500-watt setting. In addition, you can also adjust the thermostat to your preferences as you see fit.
PROS
CONS
⦿ Has two heating settings and an adjustable thermostat.
⦿ This heater has various protective measures like automatic tip-over shutoff.
⦿ You can avail a 5-year warranty.
⦿ It has a pretty small size that is only meant for smaller rooms and cabins.
⦿ Heat output is pretty low for the price paid.
5. Dr. Infrared Heater Portable Space Heater
Price: $153.92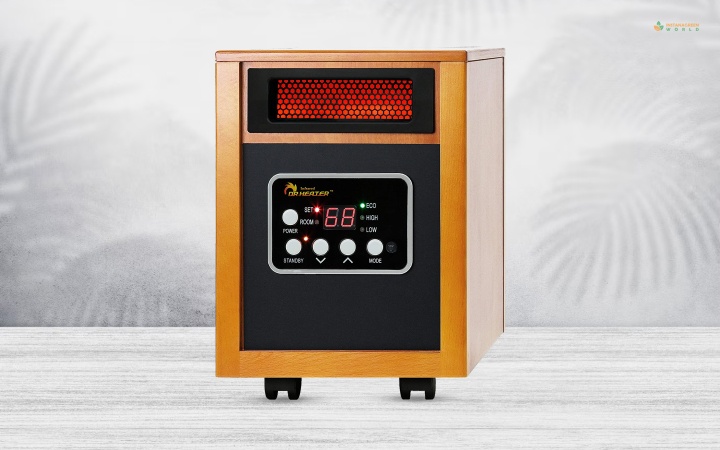 If you want the best space heater Walmart energy efficient, then Dr.Infrared is your best friend. Comparable to products by the best solar companies in the USA, this room heater is bound to satisfy your needs.
This efficient space heater has enough power to heat up a large 1000 square feet room. Therefore, if you have an indoor winter party, this space heater will work wonders. In addition, it works well for small rooms since you can adjust its settings from three different modes.
PROS
CONS
⦿ This has a 12-hour automatic shut-off timer.
⦿ It sports a dual heating feature with the use of infrared.
⦿ You can adjust the thermostat between 50 degrees to 85 degrees Fahrenheit.
⦿ This has three different settings – Low, High, and Eco (self-adjusting).
⦿ It is pretty heavy, weighing 24 pounds.
⦿ Has a pretty retro, outdated look that many might not prefer.
6. Lasko 5775 Ceramic Space Heater
Price: $74.99
The Lasko Oscillating Tower Space Heater uses 1500 watts to make it the least economical space heater on this list. However, it makes up for this shortcoming with powerful and quick heating, which gets done relatively quietly.
This ceramic space heater has a big LED display and great controls for easy use. In addition, it also has adjustable thermostats and two different high and low settings for customizability.
PROS
CONS
⦿ Dual heating settings and an adjustable thermostat.
⦿ LED display and controls.
⦿ This heater uses 1500 watts in all settings.
⦿ Automatic shut-off feature can frequently malfunction.
7. Dreo DR-HSH004A
Price: $59.99 (Amazon)
This energy efficient room heater by Dreo is the best bathroom heater you can afford in 2023. Unlike other electrical appliances, you can use this in your bathroom without any worries. It's designed to make it water resistant to help you stay safe from shocks.
This is your best alternative if you want a solar shower. It heats your bathroom during winter quickly in a few minutes. It has six buttons that allow you to customize various options like temperature, timer, etc.
PROS
CONS
⦿ Waterproof.
⦿ Pretty quiet.
⦿ Six buttons for better controls.
⦿ Not meant for larger spaces apart from bathrooms.
Conclusion
Every energy efficient space heater I have mentioned above are great room heaters that get the job done perfectly. From prices ranging from as low as $43 to $460, you can buy any of them according to your budget and make your room warm and cozy in the way you see fit! If you wish to suggest other space heaters, feel free to do so in the comment section below!
Read More: