I know that you love your denim. Who doesn't like a slick pair of denis that seamlessly matches all your styles? Denim is an excellent fabric, which makes them sturdy. However, if they are old or ripped, what to do with old jeans?
If that is your question, you have come to the right place. This post will teach you various ways to recycle denim as best as possible.
Best Upcycling Denim Ideas For 2023
If you wish to know what to do with old jeans, you can recycle or upcycle jeans. There can be various uses for old jeans. If you want to know about the best denim recycling ideas,
1. Denim Pillowcase
If you have a sewing machine at home, this suggestion is helpful. Trim your favorite pair of colored jeans into rectangle-shaped sections.
Ensure you're working to a pillowcase pattern size before sewing them together in various shapes, such as a chevron pattern or whatever design you prefer. Then, attach the zip at one end to a soft cotton or fabric backing, and presto! Your pillowcase is ready and pretty adorable too!
2. Denim Floor Mat
This idea works exceptionally well if you need help with what to do with ripped jeans.
Cut out hexagons (of the same size) from many other pairs of jeans, then patch them together. Cut the edges to the desired rug form, and then zig-zag sew the edges to keep them from fraying. The rug may also be suitable for bathrooms or kitchens by stitching a non-slip material on the back.
3. Denim Shopping Bag
We know that using too much plastic harms the environment, so making a repurposed tote or shopping bag is a fantastic, eco-friendly idea.
Cut the legs off of your favorite jeans to create long, broad strips. A seam from a pair of jeans should serve as the bag's open end once you sew them together at one end. Include a handle you choose, such as a rope or any leftover fabric.
4. Denim Basket
Are you constantly searching your house for pencils, scissors, or other crafting supplies? Make a Homemade basket out of denim that you can use to store supplies like pencils and different needs.
Cut two lengths of your old jean legs, like the shopping bag, and stitch them together at one end, leaving the other end open. Stitch inside the bag, such as a quirky piece of colored cotton, leaving a small amount of fabric protruding. You must fold this cloth over the jeans to provide a lovely seam at the top of your basket.
5. Denim Clutch Purses
The cutest DIY ever is this clutch or coin purse made from recycled pants. I really appreciate the fabric's built-in exterior pockets.
Although the method calls for standard fabric, you can easily replace the outer layer with a pair of cut-up denim jeans. Use a denim needle to stitch through the denim.
6. Denim Armchairs And Cushion Sofas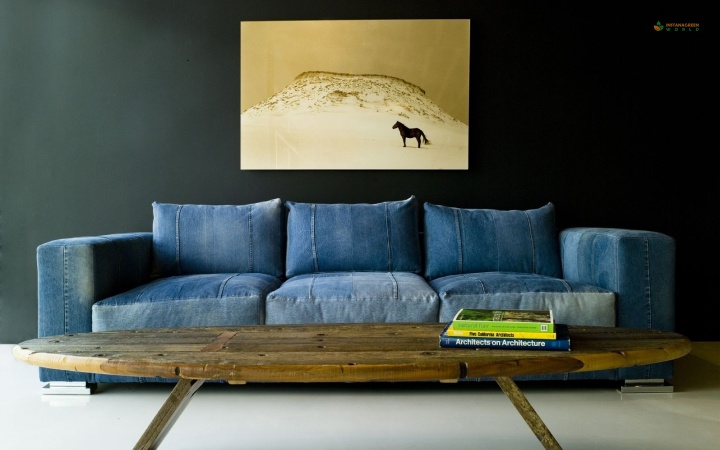 Indeed, denim is a durable and robust fabric. This is why many people ask what to do with old jeans no sew.
It likely shouldn't come as a surprise that many denim recycling ideas believe it to be an excellent fabric for upholstery. The denim pockets may even be placed purposefully to provide a space for the TV remote!
Just take the upholstery fabric apart at the seams, look for sections that fit the contour of your chair, or stitch it together into larger pieces as necessary to replace it with denim pieces cut from your old jeans.
7. Denim Sofa Organizers
Don't you just love creating a practical over-the-arm couch organizer to hold your remote controls and magazines utilizing the pockets and apertures already there in your old pair of jeans?
You might measure to see if you can take the more extensive panel from the back of your jeans to maintain the two back pockets in place and then stitch the legs together to achieve the length instead of cutting the panels for the pockets as they have.
After that, you may install the front panel for your magazine pocket as they have in the first picture up there. I adore that the waistband is still in the bottom pocket.
8. Upcycled Denim Gift Ideas
Make the ideal homemade present out of used denim that is emotional and meaningful and won't cost you a fortune to make. Here are a few inventive, exciting ideas if you need help with what to do with old jeans.
Make baby bibs out of old denim by customizing them with various other fabrics to create the patterns you like. Make bibs for new babies in whatever imaginative way you desire.
Are you hosting a party for your children or yourself? Make a bunting or party banner out of an old pair of jeans. Triangles should be cut out and sewn onto a length of thread. Use colorful textiles to add inscriptions or patterns to the denim to commemorate important events.
Make creative children's toys out of denim. Because it is durable and capable of withstanding children's roughhousing, the cloth is a fantastic choice for soft toys for children. Let your imagination run free and create anything from denim teddies to denim whales!
By repurposing old jeans, you not only give something precious new life, but you also create something sentimental and significant, investing in the longevity of items rather than just tossing them away and purchasing more. Your recycled denim fabric will last longer if you use laundry detergent.
Denim Forever
If you don't know what to do with old jeans, reading so far must have given you some creative ideas. You can turn your old denim into the surface of your armchair or sofa. In addition, you can turn them into bags and door mats as well! If you have more denim recycling ideas, please feel free to share them in the comments below!
Read More: