Do you think solar panels are hard to maintain? Do you think you can't use a solar panel if your locality does not receive much sunlight? Well, we have the solutions to all those problems. A ring solar panel is a multifaceted solar panel that can resolve many of your problems. It is the perfect accessory to accompany your outside CCTV camera.
A ring solar panel and a ring security camera are easy to maintain and even easier to install. If you contact a home security specialist, he will help you install the ring camera solar panel in no time. It is even easier than installing solar on the rooftop, so let's find out how it works and what benefits it offers.
Ring Solar Panel Overview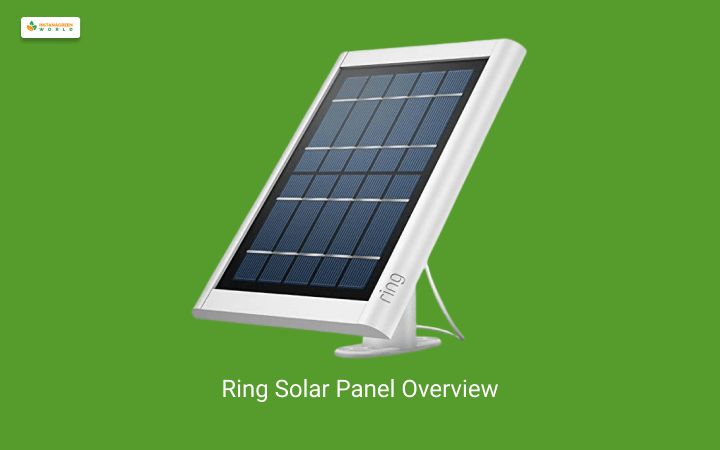 The ring solar panel connects to the stickup cam battery, and thus it gets a supply of continuous charging. So, a ring spotlight cam solar panel never runs out of charge, which is the best thing about it. So, if you can keep the solar panel under 3-4 hours of direct sunlight, it will be good to go for many days ahead.
A ring solar panel has a weather-resistant design, which means the panel can survive in rough weather too. So, it doesn't matter if you stay in a chilly mountainside or a tornado-prone location; the ring solar panel spotlight will be good to go in any weather.
The only downside to this solar panel is that it only works with the 2nd and 3rd generation Stick-Up Cam Battery. Now, the camera may seem costly to some people. However, if some people already have a security camera outside their home, it may seem like an unnecessary expenditure that they have to spend to buy the solar panel kit. 
But, the rechargeable battery pack of a ring solar panel is probably the best thing that compels you to buy this product. It even has a multi-positional mounting bracket that can enable you to put the solar panel anywhere you want. The mounting bracket is also adjustable, so no matter how your home infrastructure is, you can install the ring doorbell solar panels easily.
Benefits Of Ring Solar Panels
A ring solar panel is probably the best thing you can install to accompany your security camera. Not only does it offer a completely energy-efficient system to your home, but other advantages can provoke you to buy one of these now. Let's take a look;
1. Easy To Install:
The ring solar panel installation is the easiest in all the solar panels. All you need is a ring Stick Up cam battery solar panel or a Spotlight cam battery, and installing the panel becomes a layman's job. We suggest you install the panel just beside your security cam because, in that way, it will have a continuous supply of charge throughout the day.
Read More: How Does Solar Battery Backup System Work?
2. Non-Stop Solar Power:
Have you ever faced the ring solar panel not charging issue? You probably haven't, and you likely never will. The Stick Up cam battery charges the solar panels around the clock. However, only 3-4 hours of direct sunlight can keep the panel going for a long time. So, if you are worried about how you will charge these, stop worrying right now.
3. An Extra Layer Of Security Around Your Home:
If you think that a ring solar panel comes with a ring camera, so that will be an additional expense, you are wrong. Just think about it as a long-term investment. If you use the ring solar panels to make your home more eco-friendly, why can't you use a security camera to see who is peeping inside your home? The camera is also solar powered so, that's a plus too.
4. It Sends You Sensor Alerts:
The solar cam is probably the best accessory of the ring solar panel spotlight. Not only can you hear people talk outside your home on your phone and tablet, but also, the camera will send you sensor alerts if it detects movements outside your home. So, getting an instant mobile alert every time someone steps on your property is pretty impressive if you care a bit about your home security.
What Does A Ring Solar Panel Kit Include?
The ring solar panel adapter for the spotlight cam battery is something that is complementary to the ring solar panel package. However, there are a few other things too that the ring solar panel package includes. So, if you are still hesitating to buy it, let's take a look at the entire package first;
Self-tapping Screws X 4 

Hex Cap Screw X 2

Mounting Bracket X 1

5W Solar Panel Charger X 1

Screw Anchors X 4

Hex Key X 

Machine Screws for the Ring Spotlight Cam Battery X 2

Washers X 6
Read Also: Types Of Solar Panels: Which One Is The Best Choice?
FAQs:
1: Is The Ring Solar Panel Worth It?
Ans: The solar panel for the ring camera is absolutely worth it because it will make your home eco-friendly and will also make it more secure. The panel is also affordable because it costs only $99.99. So, apart from being a value for money, the ring solar panel is also quite convenient.
2: Can I Use Any Solar Panel For Ring Camera?
Ans: No, you cannot use just about any solar panel with the ring camera. You need to use the ring solar panel with the cam because they are complimentary of one another. The ring provides solar panels with fork connectors to charge the ring doorbell too.
3: Does Solar Charger For Ring Work?
Ans: Of course, the solar charger for Ring solar panels work, and they work well because you only need to put them in 3-4 hours of direct sunlight. Even if you live in a cloudy area, the solar charger for the ring camera will work just fine. 
Conclusion
The ring solar panel white and the ring solar panel black-both are quite demanding products in the market. They even have different size options so you can buy one that suits your needs the best. If you found this article helpful, you can share it with your friends. But, if you have any more questions on this topic, you can let us know in the comment section below.
Read Also: