There are many famous environmental-friendly, eco-lodges around the world, if you are someone who is looking for the same then you have come to the right place.
Keep reading till the end to find out more information on various eco lodge!
The Top 10 Serene and Sustainable Eco Lodges Around The Globe
Here is a list of the top ten sustainable and environmentally – friendly eco lodge around the globe:
Ecocamp Patagonia (Chile)
This is the first ecolodge hotel in Patagonia that has a certified Environmental Management System. This Chilean-owned eco-friendly lodge is known to offer luxury glamping facilities and also amazing views of the gorgeous peaks of the Torres del Paine massif.
Their green exteriors are especially inspired in a way that they can blend harmoniously with the environment that surrounds them. Their skylight windows are also utilized in a way that they get to utilize natural light and heat.
Tip: If you are a budget traveler who is traveling the world then be sure to search for econo lodge locations. They provide the most affordable accommodations for budget travelers. If you are unsure where there is one located near you then you can manually type into Google – econo lodge near me, and it would show you the results.
Daintree Wilderness Lodge (Australia)
This is named after one of the top fifty lodges in the world by National Geographic. They are in a partnership with the tribe of Kuku Yalanji, which allows the guests a rare chance to delve themselves into the culture of Aborigines ( of Australia).
The particular lodge is actually set in the Daintree rainforest, which is the world's oldest and a part of the Wet Tropics Queensland ( UNESCO World Heritage Site) on the northeastern coast of Australia.
The lodge also has an eco-certification that ensures that the guests stay in their uplifted treehouse-style villas.
Tip: If you are visiting the Bali region then be sure to consider the firefly eco lodge. That is literally the best option for sustainable accommodation when there!
Campi Ya Kanzi Eco Lodge (Kenya)
This lodge overlooks Mount Kilimanjaro and is both owned and operated by the Maasai people. They are the Nomadic form of pastoralists who have since much earlier called this region their home for the last five hundred years.
This Camp of Hidden Treasure is stretched around 400 square miles. There are a wide variety of ecosystems and very remarkable biodiversity available here. That makes it a very memorable safari experience.
This is a very exclusive camp where only a total of twelve people can stay at a time.
Feynan Ecolodge (Jordan)
This lodge is named under one of the top fifty ecolodges in the world by the National Geographic. This lodge is a unique partnership between Jordan's Royal Society for the Conservation of Nature(RSCN) and EcoHotels.
This place is also truly considered as a pioneer of "sustainability. This place is considered as a pioneer of sustainability not just in Jordan but in the entire Middle East region.
Phinda Forest Lodge (South Africa)
The Phinda Forest Lodge is considered as one of the first eco-lodges that is a part of the 170 square km game reserve. This place has also been praised by the National Geographic for hosting a sophisticated form of luxury and also being a part of being environmental consciousness.
Their rooms are known to feature floor-to-glass ceiling windows that would provide their guests with a great immersive experience of the surrounding scenery of the forest.
Three Camel Lodge (Mongolia)
This Lodge is set against a dramatic backdrop of the Gobi Altai mountains. The rooms of this lodge offer camel hair blankets, hand-carved furniture, and wool carpets. The interior of this building also features hand-molded roofing tiles, and wooden peg construction and is designed in a way to appear as a Buddhist temple.
Hamanasi Adventure and Dive Resort (Belize)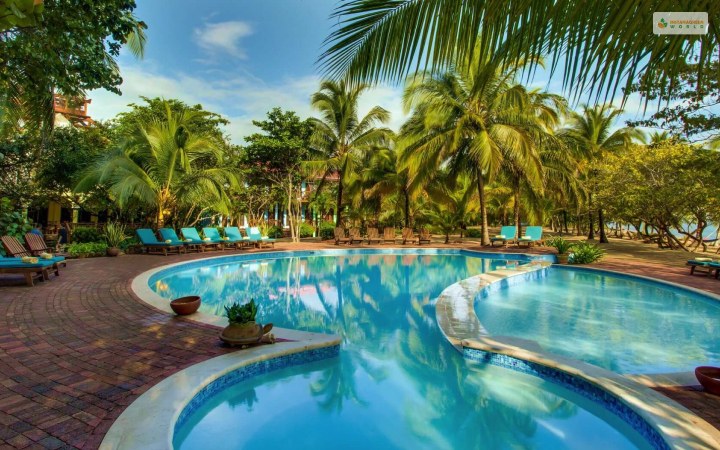 This Green Globe eco-resort is set on the amazing Caribbean coast that was named Belize's Hotel of the Year in 2009. It is located just minutes away from the Hopkins Village and forms a perfect location for nature lovers and any type of adventurers alike.
Topas Ecolodge (Vietnam)
The Topas Eco lodge is located in the Sapa Valley of Northern Vietnam and has sustainability as the core foundation based on which its reputation is built.
This remote eco-lodge is set high up in the hills, which overlooks the valleys of the Hoang Lien National Park. They also have an infinity pool that uses about eighty-five percent less energy than other regular forms of pools.
Nimmo Bay Wilderness Resort (British Columbia)
This is another one of National Geographic's Unique lodges. This place is tucked away in an old growth of wilderness, of the Great Bear Rainforest of British Columbia. This place couldn't be any more remote – it is surrounded by pristine forest, tumbling waterfalls, and majestic mountains.
Lapa Rios Lodge (Costa Rica)
This place is set on the Pacific Ocean and is surrounded by over a thousand acres of protected rainforest on the Osa Peninsula of Costa Rica. It is also just adjacent to the Corcovado National Park which is a soon-to-be-named UNESCO World Heritage Site and is also widely considered to be one of the most biodiverse places on this planet.
They have sixteen hatched bungalows that make use of chill ocean breezes, while their salt-based pool, yoga classes, and open-air restaurants ensure that they are eco friendly and never feel anything less than luxurious.
To Wrap It Up!
That was all for information regarding the most sustainable and serene ecolodges that are present across the globe. Thank you for reading up till here. I hope you found the information useful. Let me know in the comments your thoughts on the same.
Have A Look :-